OUR WELLBEING MISSION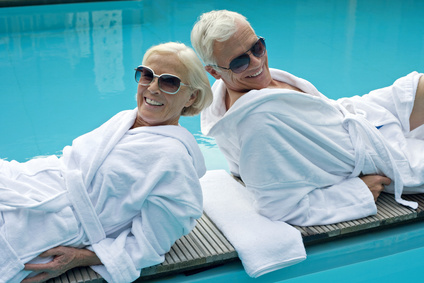 To create a resort that has been carefully and meticulously designed to offer the ideal short holiday or residential experience to individuals who love life and understand the importance of nature, of aesthetics, of culture, good food, music, sport and exercise, of spending time with other people, of having fun, relaxing and socialising. And to breathe life into this resort by filling it with children, parents and older generations spending time together and enjoying a lifestyle devoted to living well in contact with nature, active, healthy, carefree and, above all, happy.
To fill almost a third of it with spaces – indoors and outdoors – where individuals will be encouraged to take part in group activities and interact socially, places where guests will find harmony, serenity, happiness, enjoying healthy dining options designed to cater for specific dietary requirements, but still be full of flavour.
Tastefully decorated and furnished spaces that offer maximum comfort and the right mix of privacy and social interaction.
A place where you will find the support you need, people who will listen, take your concerns and commitments on board and make them their own, freeing up your energy for what really interests you.
A place that offers a choice of stimulating activities, to engage the mind and the body, and satisfy your appetite for exploring and seeing new places.
A place equipped with exhaustive, but discreet monitoring systems – telemedicine, remote assistance – to follow guests' progress and their health, replacing the ritual of check-ups with a system of alerts that indicate when a more thorough on-site assessment is required – another way to free up your time and energy and help you live a more dynamic lifestyle.
The resort has 30 highly motivated members of staff, supporting 180 guests.
The TRISKEL RESORT will also benefit and bring added value to the surrounding area, establishing agreements with selected local, organic producers for the supply of food produce, and giving rise to business initiatives large and small catering for various necessities and desires of its Guests. These enterprises will cover a number of sectors, with products carefully designed to be comfortable, ergonomic, and practical, from furniture and homewares, electronics and smart-home technologies to clothing and footwear. A world of products to improve life quality for retirees.
The philosophy that lies behind the TRISKEL RESORT marries a number of closely related elements, recasting them according to ancient Celtic tradition, from which it borrows the word triskel and its various meanings:
- The three components of man: spirit, soul, body
- The three ages of man: childhood, adulthood, old age
- The three faces of time: past, present, future
- The three phases of the sun: dawn, midday, sunset
- The three elements of the world: earth, water, air
It is clear how the happy coexistence of these triads can encourage the attainment of psychophysical well-being.
EVERY DAY AT THE TRISKEL RESORT
Spa and health club
Physiotherapy
Gym
Yoga, Tai chi, Pilates
Sports courts and pitches: Football, Tennis, Basketball, Squash
Dance lessons for couples and groups
Dance evenings and parties
Theatre, music, painting, cookery, garden and photography courses
Music therapy
Light therapy
Farm and animal-themed activities
Pet therapy and Healing Horses
Activities in the nursery and the orchard
Outdoor play activities for young and old alike, led by specialist staff
Cookery workshops
Competitions, tournaments and treasure hunts
Guided tours of the area's historic towns and villages
Shows and traditional food festivals
CHILDREN'S SPECIAL (Trisky)
Games room
Mini-cinema
Competitions and treasure hunts
Babysitting service by arrangement
Games in the pool
Games in the orchard
Games with the animals at the farm
Pony-trekking
Children's crafts
Children's cookery classes
Children's theatre
Play-dance courses
Face-painting
Italian courses
English courses
Presentations and workshops on a variety of subjects
Lessons and training in various sporting activities
Posture analysis
SPORT SPECIAL
Tournaments
Tennis, football and basketball masterclasses with expert coaches
Training sessions with instructors
Tailored and rehabilitative physiotherapy
Fitness training
Archery
CHILDREN'S SPECIAL
Meet Trisky, a friend and playmate for all of the children who come to the Triskel Resort.
Trisky will lead our younger guests through all of the many activities taking place around the grounds of the resort outdoors and in the dedicated children's areas.